Kyowa Electronic Instruments' Course
Challenges of the times
We continue to support the future
70 years of history
Through Kyowa Group's measurement technologies,
we are working with our customers to achieve the safety of people and society
and to create a secure future.
1949-1969
From post-war rebuilding to high economic growth period Development of cutting-edge measuring equipment unprecedented in Japan
Kyowa Electronic Instruments commenced research and development of strain gages when the technology had not been hardly known in Japan. While using technology and products from the United States as a model, we worked hard to expand our lineup of existing products, and as a result successfully launched one cutting-edge product after another, all of which were unprecedented in Japan.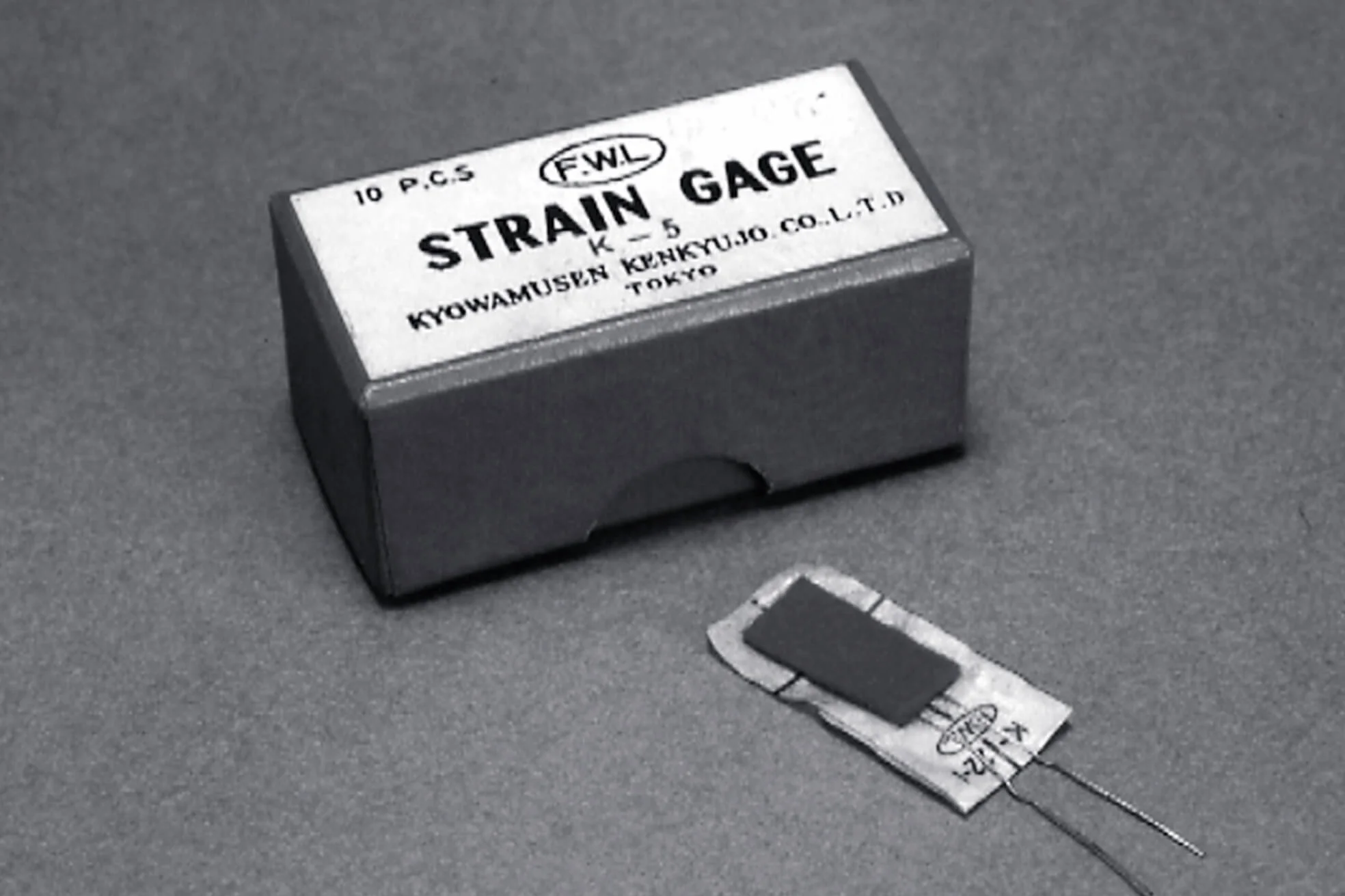 1949
Establishment of the Kyowa Radio Research Institute
Founder Osamu Watanabe established the Kyowa Radio Research Institute in Shinjuku, Tokyo.
1950
Completion of Japan's first strain gage and strain measuring instrument
It is no exaggeration to say that the history of Kyowa began with the development of Japan's first strain gage. It started when we received prototype orders for strain gages and static strain measuring instruments from the Department of Ship Structures, Transport Technology Research Institute, Ministry of Transport. Eventually we succeeded in producing prototypes of strain gages and static strain measuring instruments. Our products were first commercialized in Japan in 1951. The first commercialized strain gage was named Model K-1, and it contributed to the spread of strain gages in Japan.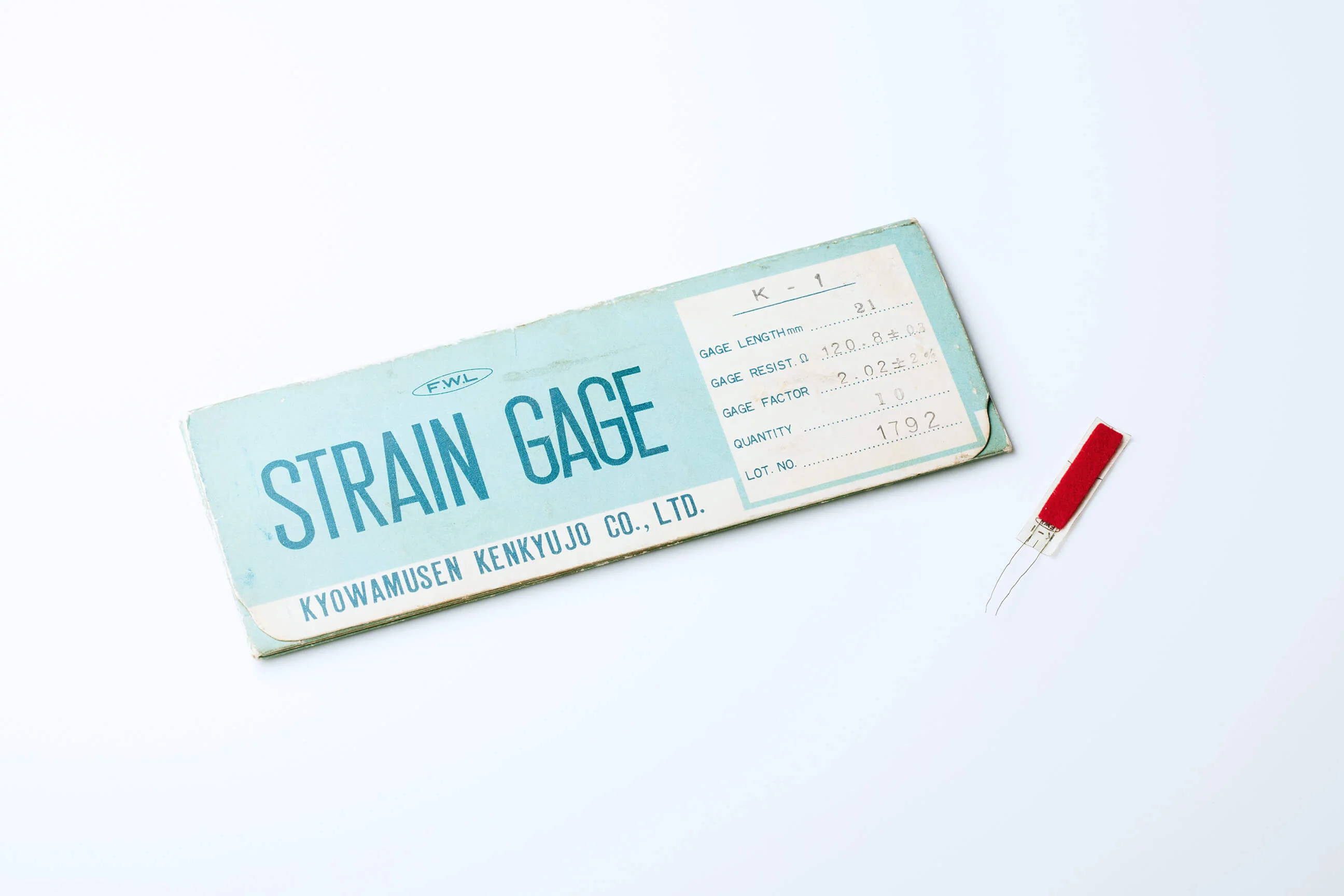 1958
Instruments installation in Tokyo Tower
Tokyo Tower, which still is a much-loved landmark to many people today, was completed in 1958. At that time, Kyowa's accelerometer was installed at the tip of Tokyo Tower, enabling it to observe shaking caused by wind and earthquakes. A sensor was also embedded in the foundation concrete at the bottom of the Tower for stress measurement.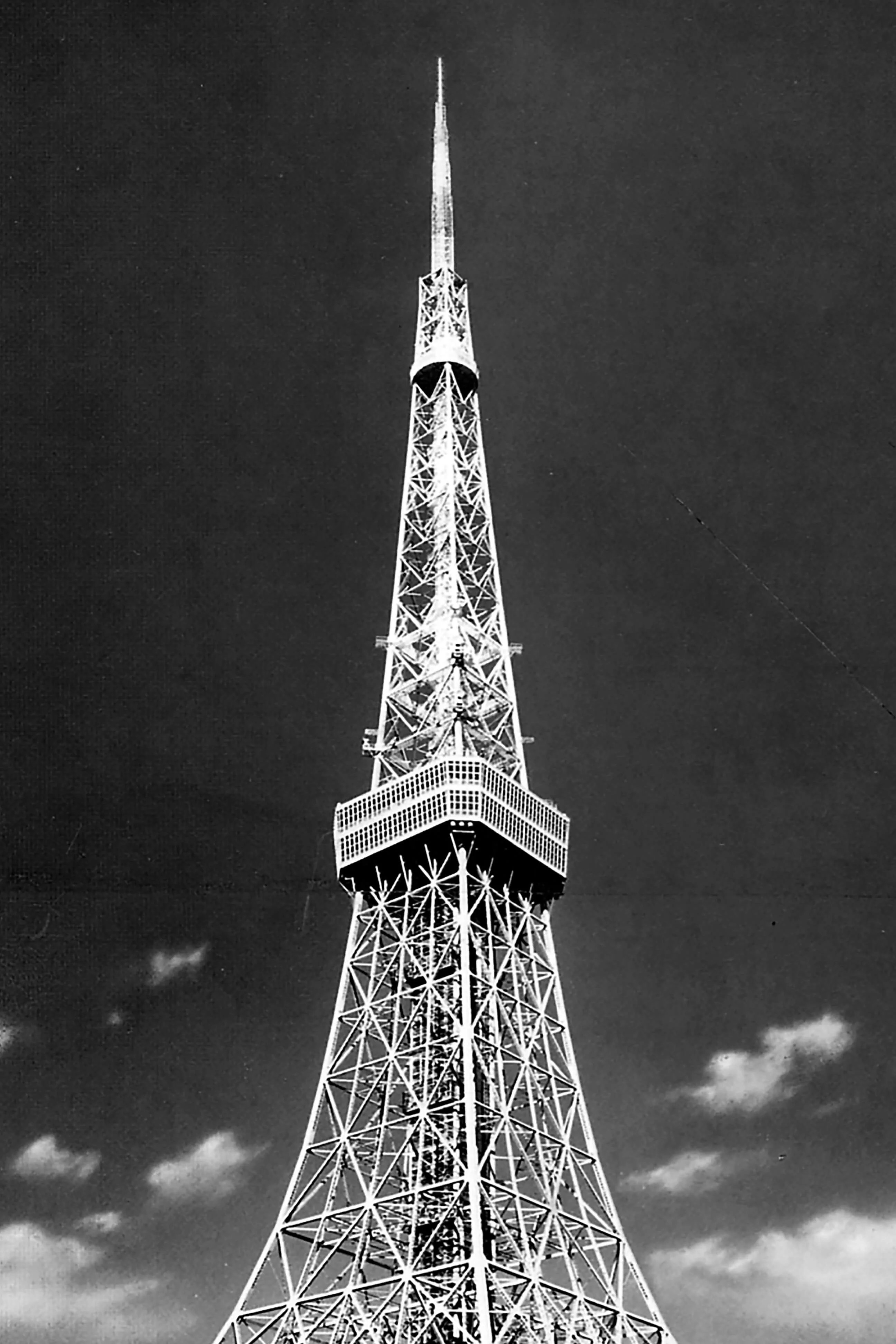 1959
The best static strain measuring instrument: SM-60AT
The SM-60AT, a transistor-type automatic balancing static strain measuring instrument. This instrument attracted worldwide attention as a revolutionary new product that solved the problem of amplification due to temperature changes in transistors. Until full digitalization of the Heisei era (= the Japanese imperial period from 1989 to 2019), the product played a leading role in static strain measuring instruments and was even featured in the US magazine "Product Engineering".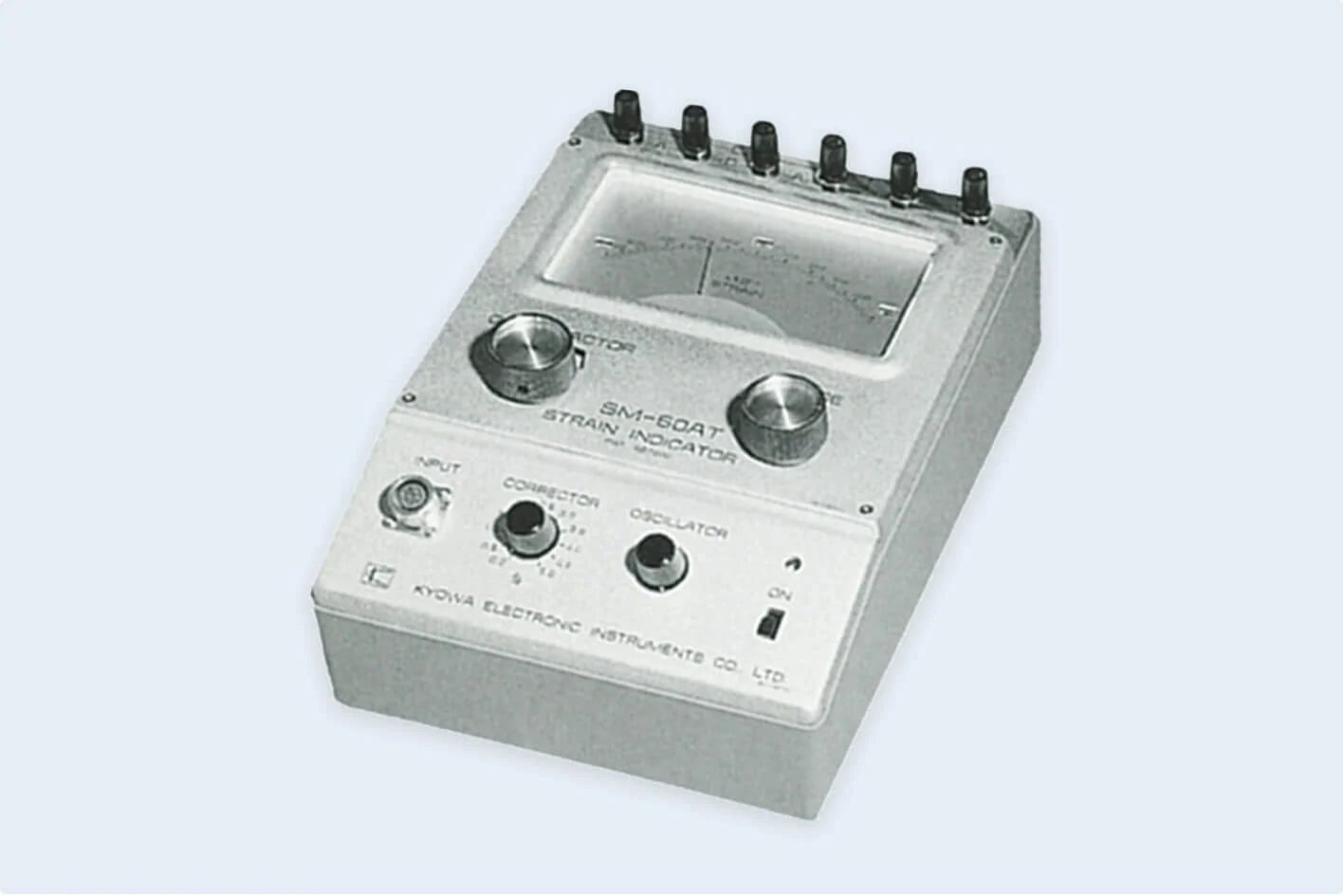 1961
Company name changed to Kyowa Electronic Instruments
The company name was changed from Kyowa Radio Research Institute to Kyowa Electronic Instruments. Along with the change of the company name, the logo was also changed, and the K mark was born, which continues to be used to this day.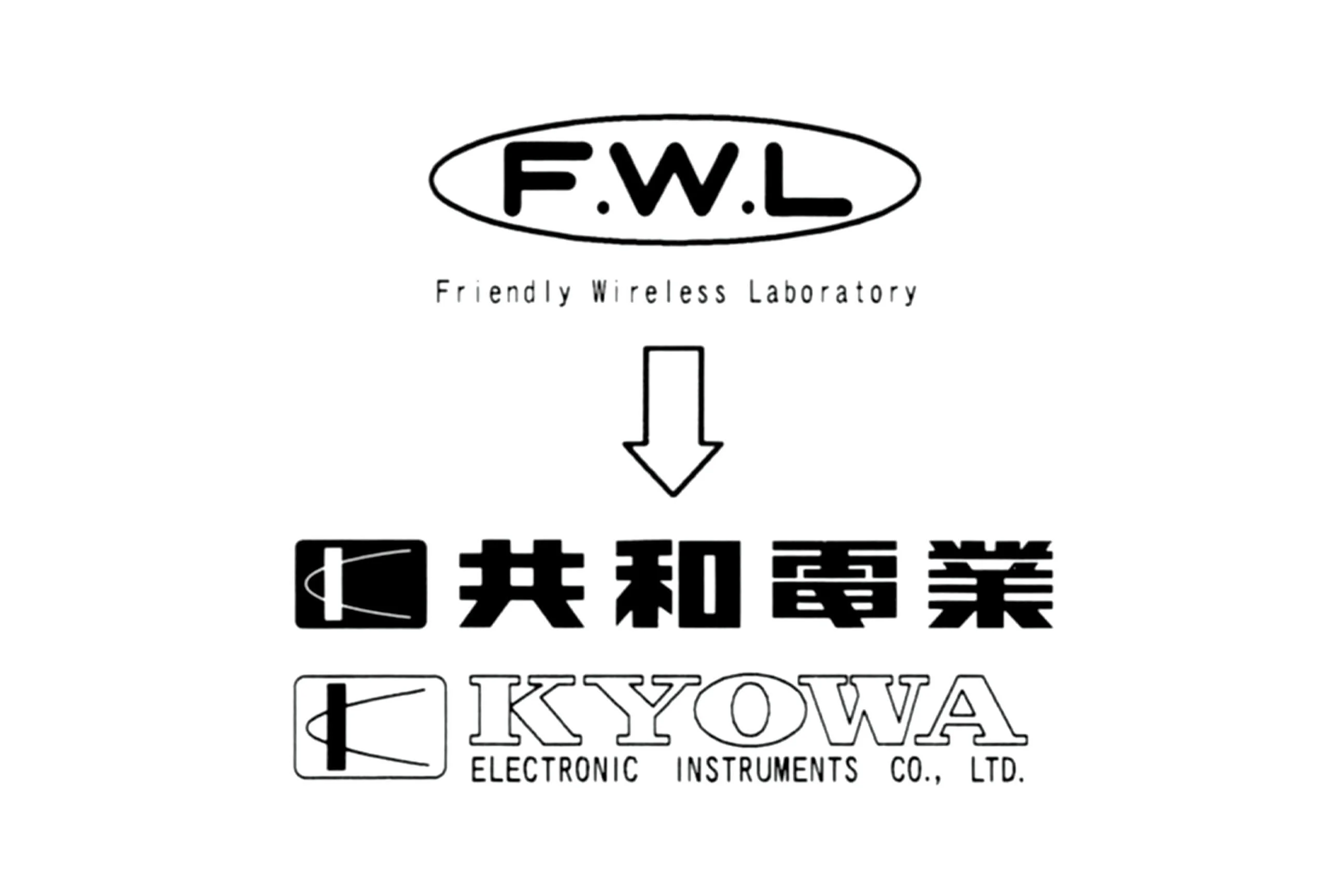 1962
Constructed a new plant in Chofu
Kyowa Electronic Instruments has been involved in important initiatives in Japan's history. With the number of employees exceeding 170, we have decided to establish a new production base, and built a new factory in Shimofuda-cho, Chofu City.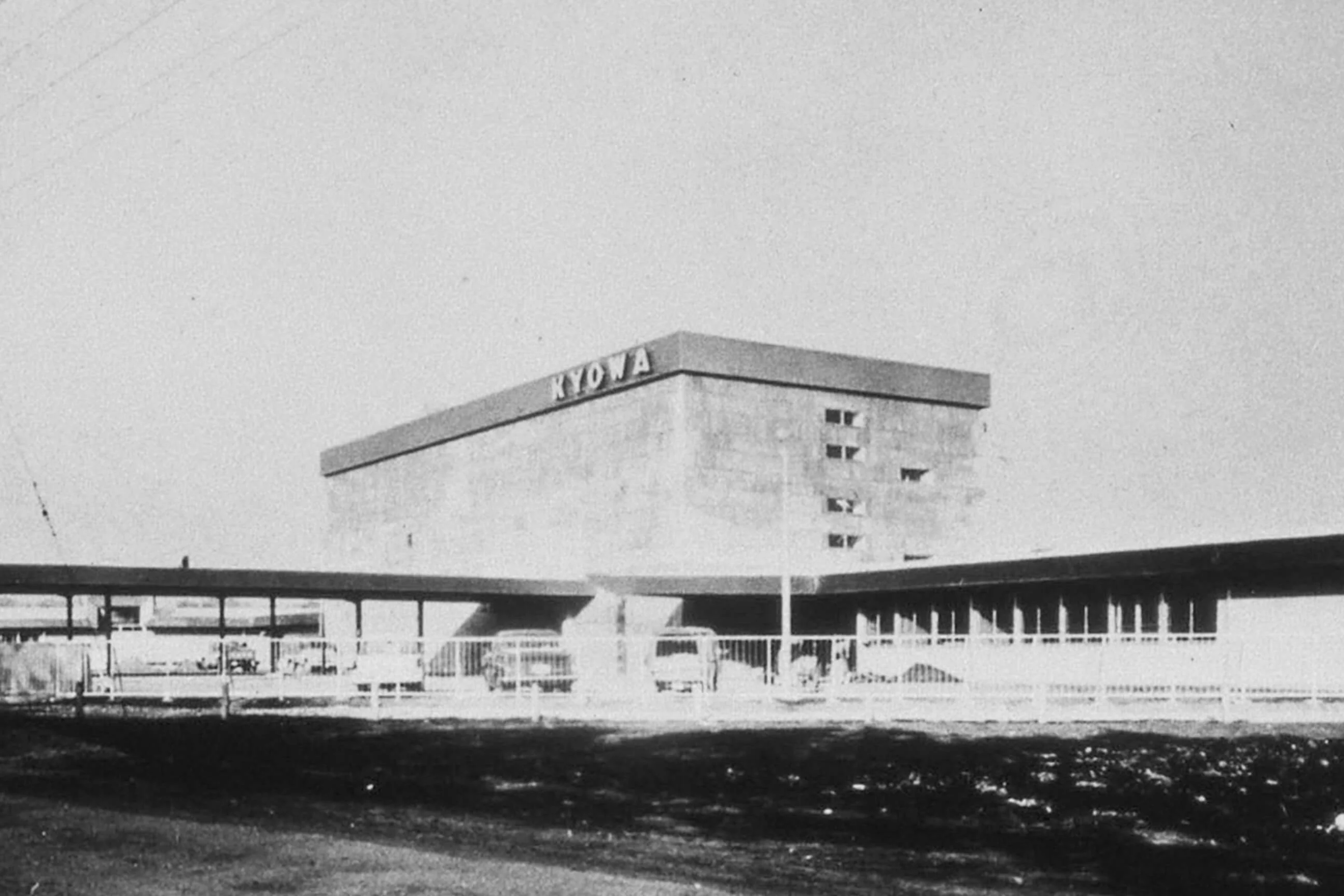 1963
Measurement on Tokaido Shinkansen test train
The Tokaido Shinkansen is the world's first high-speed railway and has the oldest history among Japan's bullet train lines. Kyowa cooperated in the measurement of test trains in 1963, the previous year, until the line opened for service in October 1964. A Shinkansen general model line management area was established in a 23 km section from Odawara City to the east bank of the Sagami River and various experiments were conducted by the JNR Technical Research Institute. Data from these experiments has contributed widely to the development of newer Shinkansen models.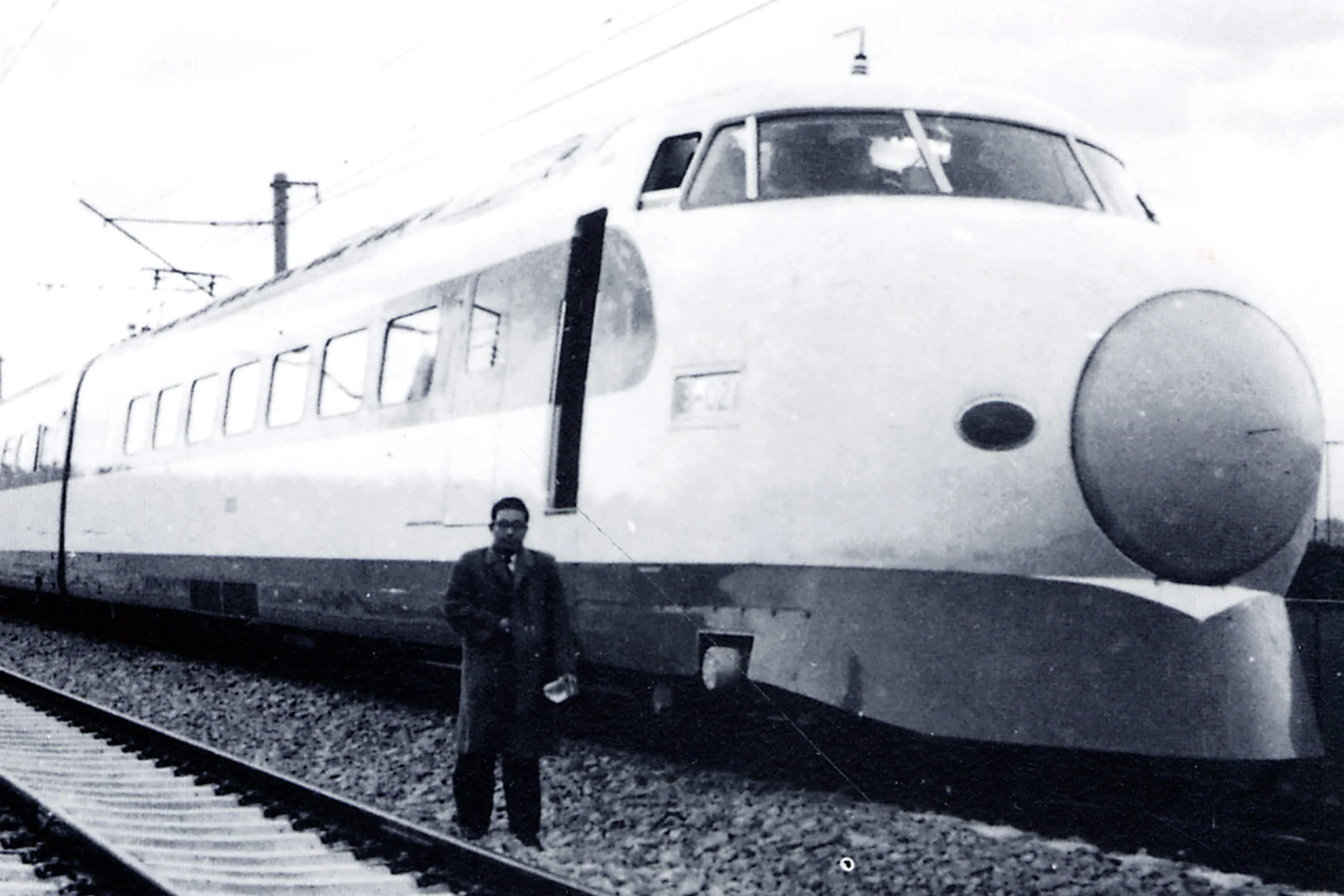 1969
Installation of gate axle load measuring devices for monitoring highways
Our axle load measuring devices have been widely adopted and used in expressway toll gates to monitor overloaded vehicles.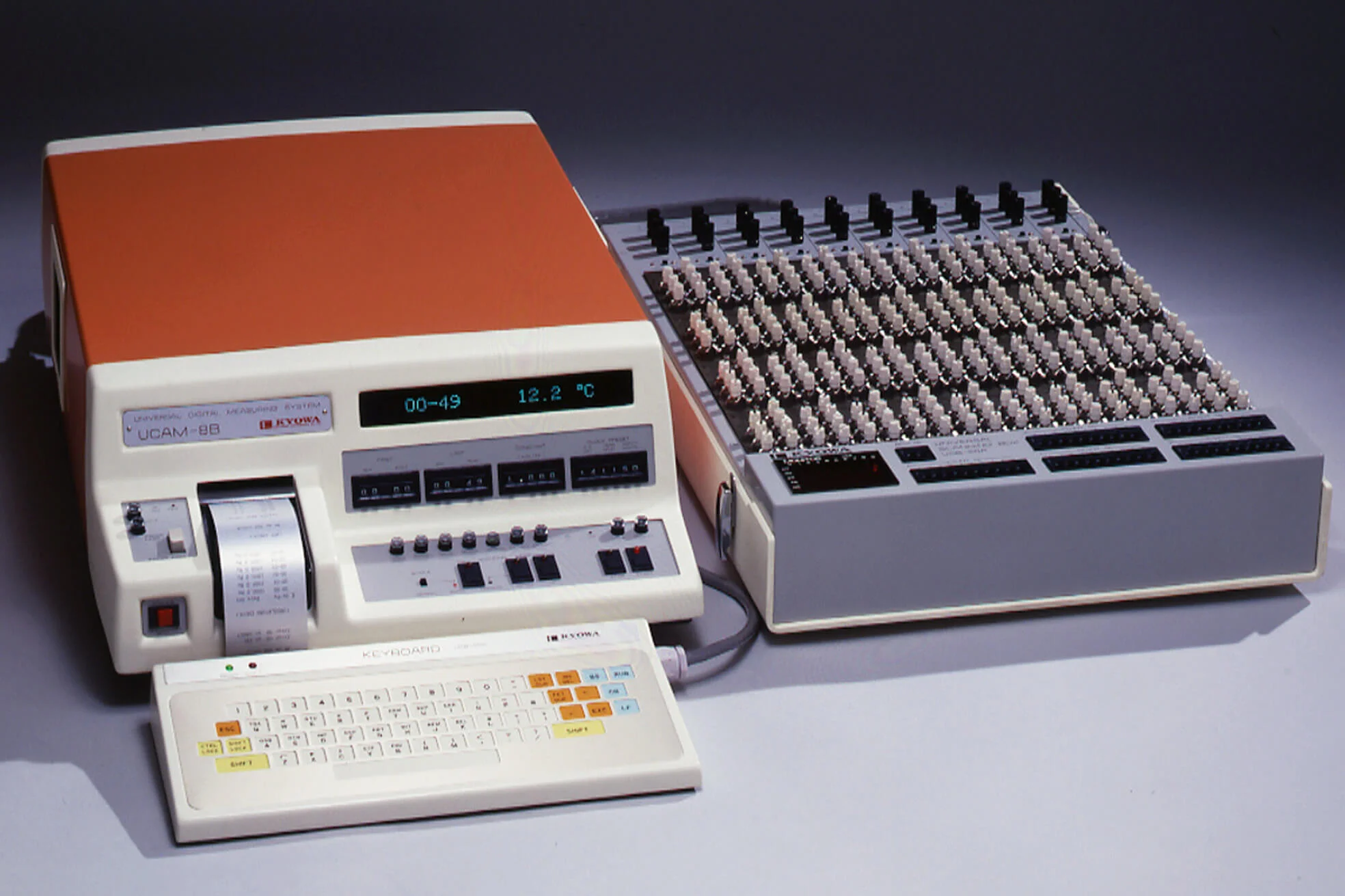 1970-1989
Focus of the Japanese industry shifted from productivity to energy efficiency after experiencing two oil shocks
At Kyowa Electronic Instruments, digitization progressed based on a user-first mindset. We led the industry with smaller, lighter products and built-in functions not found in conventional products and we were quick to work on combining measuring instruments and personal computers.
1973
Ground pressure measurement of the Chuo Expressway Enasan Tunnel
Enasan Tunnel (8.5 km) was the second longest tunnel in the world at the time. During its construction, a hydrothermally altered granite zone was found approximately 2 km from the Iida River, along with an extremely strong ground pressure. To protect against these risk factors, we installed strain gages, reinforcing bar stress transducer, load cells, earth pressure gages, ground displacement gages, and other instruments in 180 locations on steel arch supports to monitor the safety of the construction.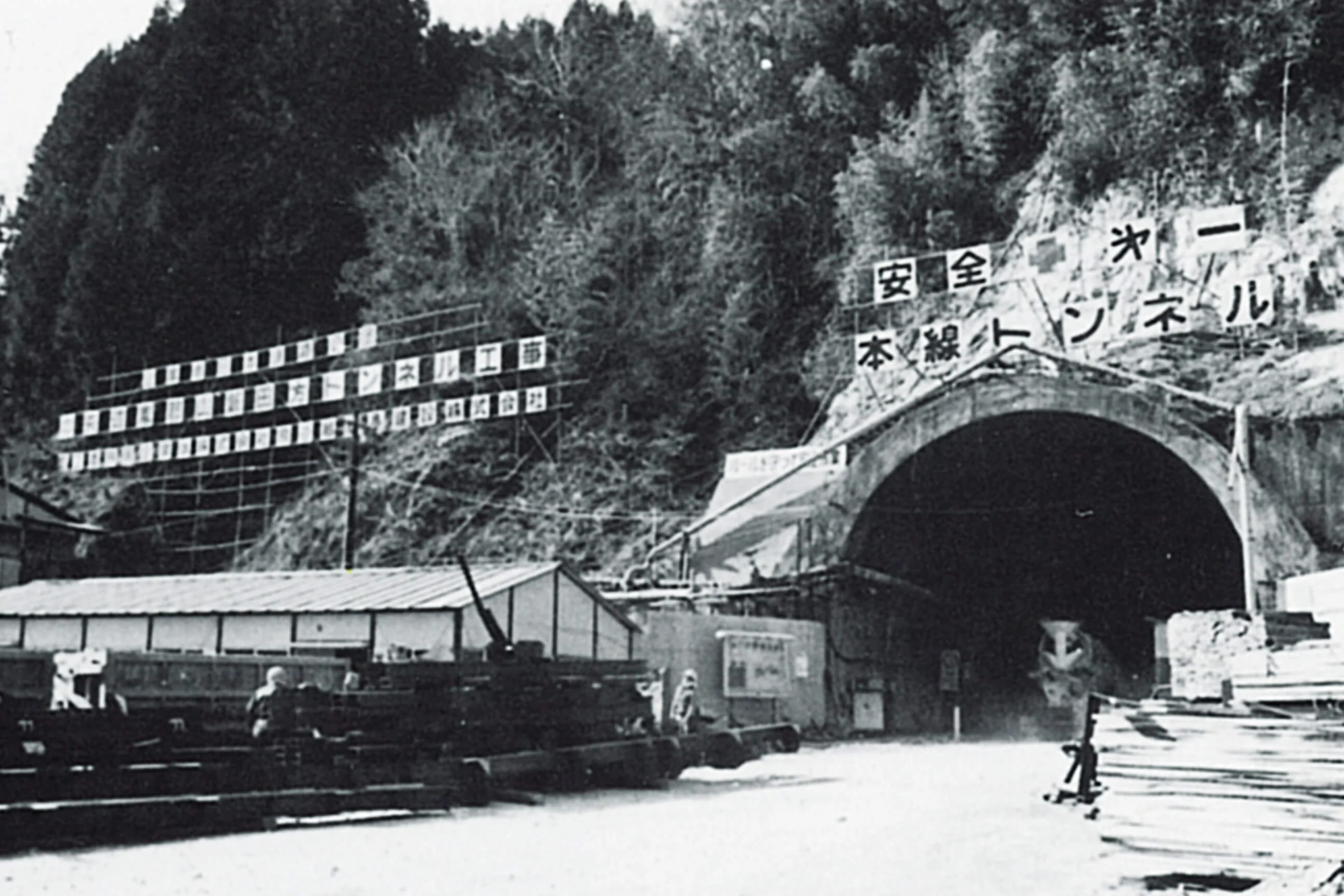 1974
Completion of cassette type data recorder RTP-500
There was a growing need for smaller, multi-channel measuring instruments for use in vehicles. At such time, a car manufacturer asked us to develop a recorder using a Phillips cassette, and were able to create a prototype over a year. It became very popular and spread throughout the automobile industry.
Development of a polyimide-based foil strain gage
The conventional base material for strain gages was easy to handle but had poor temperature resistance. Therefore, in January 1974, we started research on polyimide, a material that remains stable across a wide temperature range from very low to very high. In December of the same year, we succeeded in developing a foil strain gage using polyimide.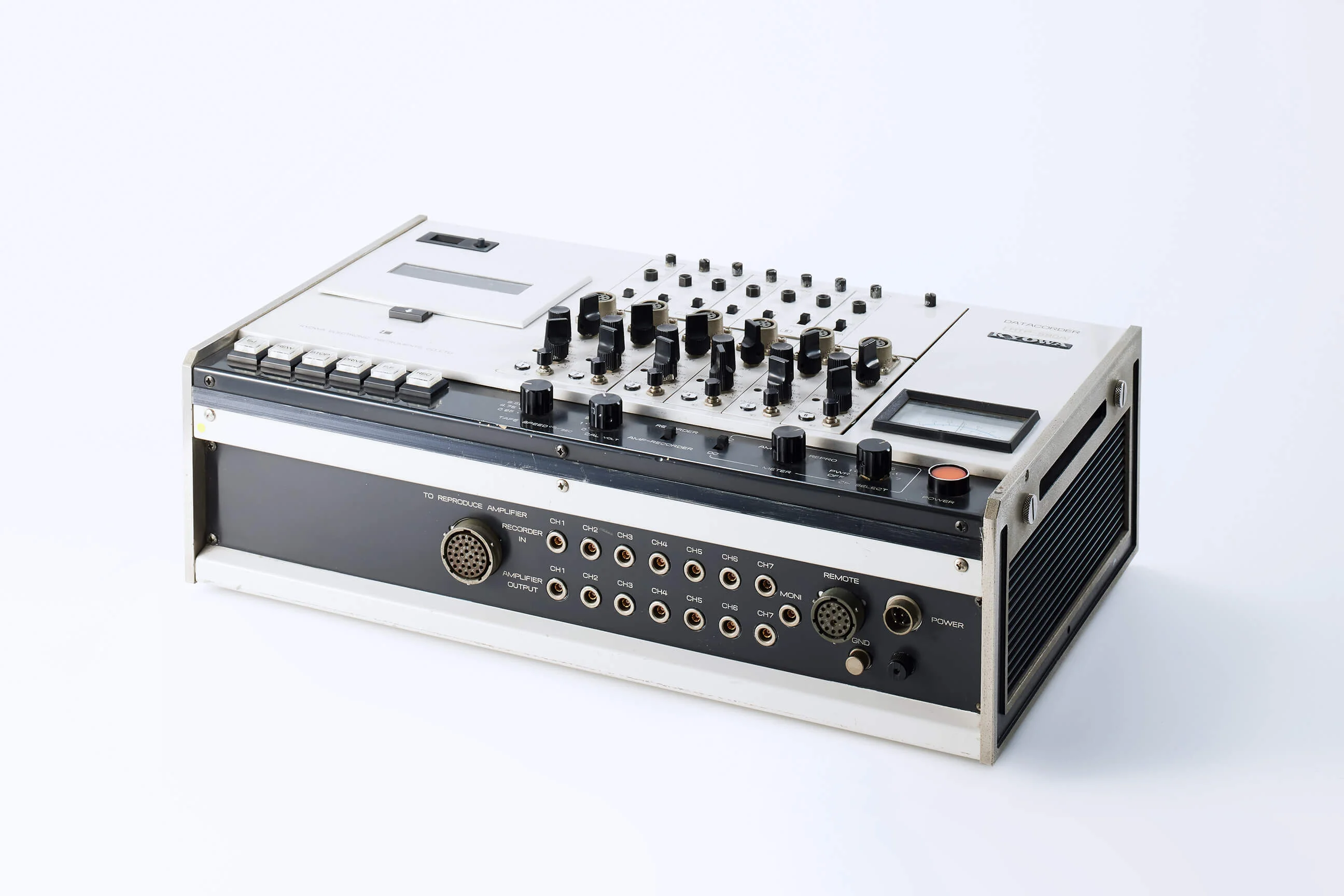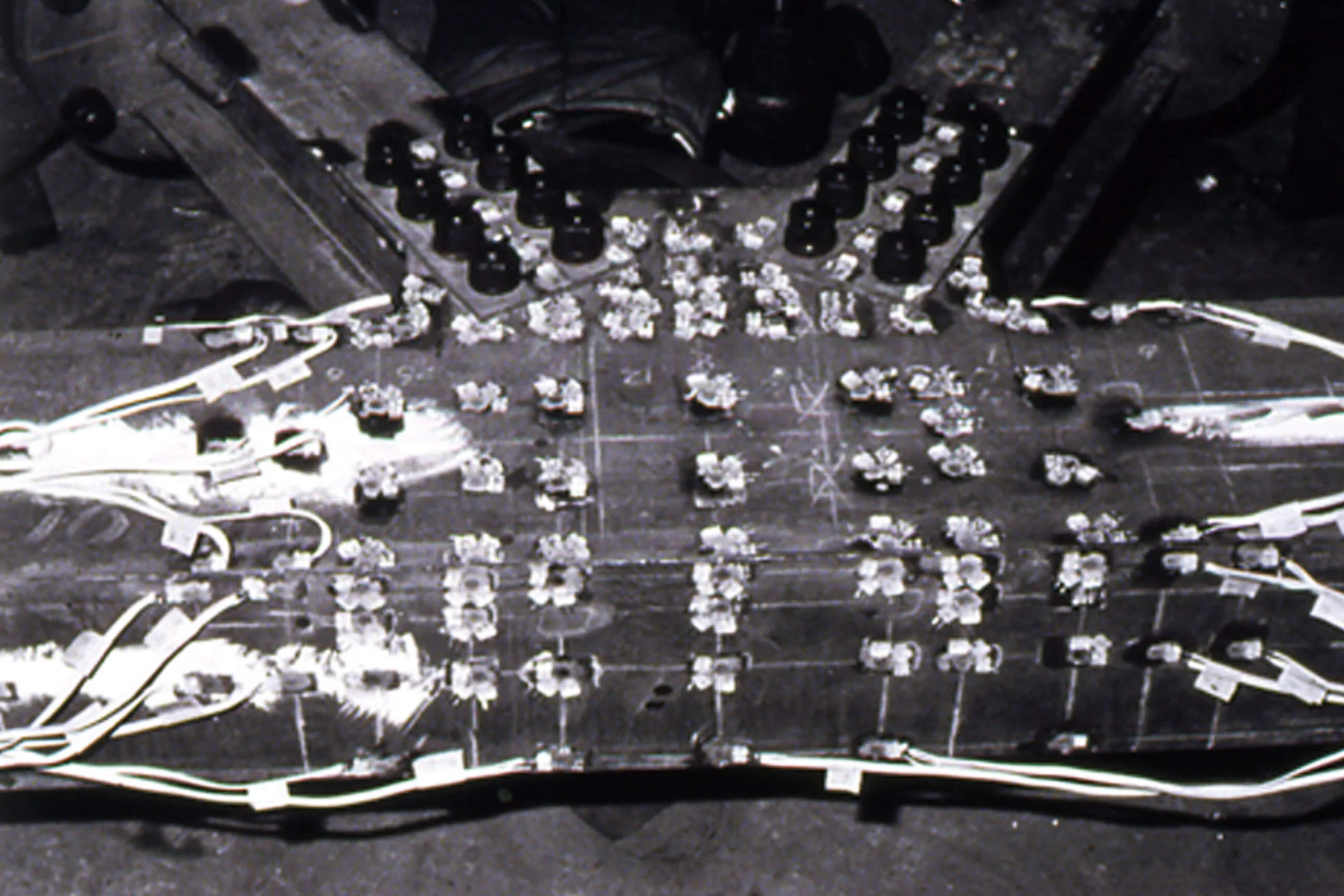 1986
KOFU KYOWA DENGYO CO., LTD.
We established Kofu Kyowa Dengyo in Yamanashi Prefecture for the production of measuring instruments.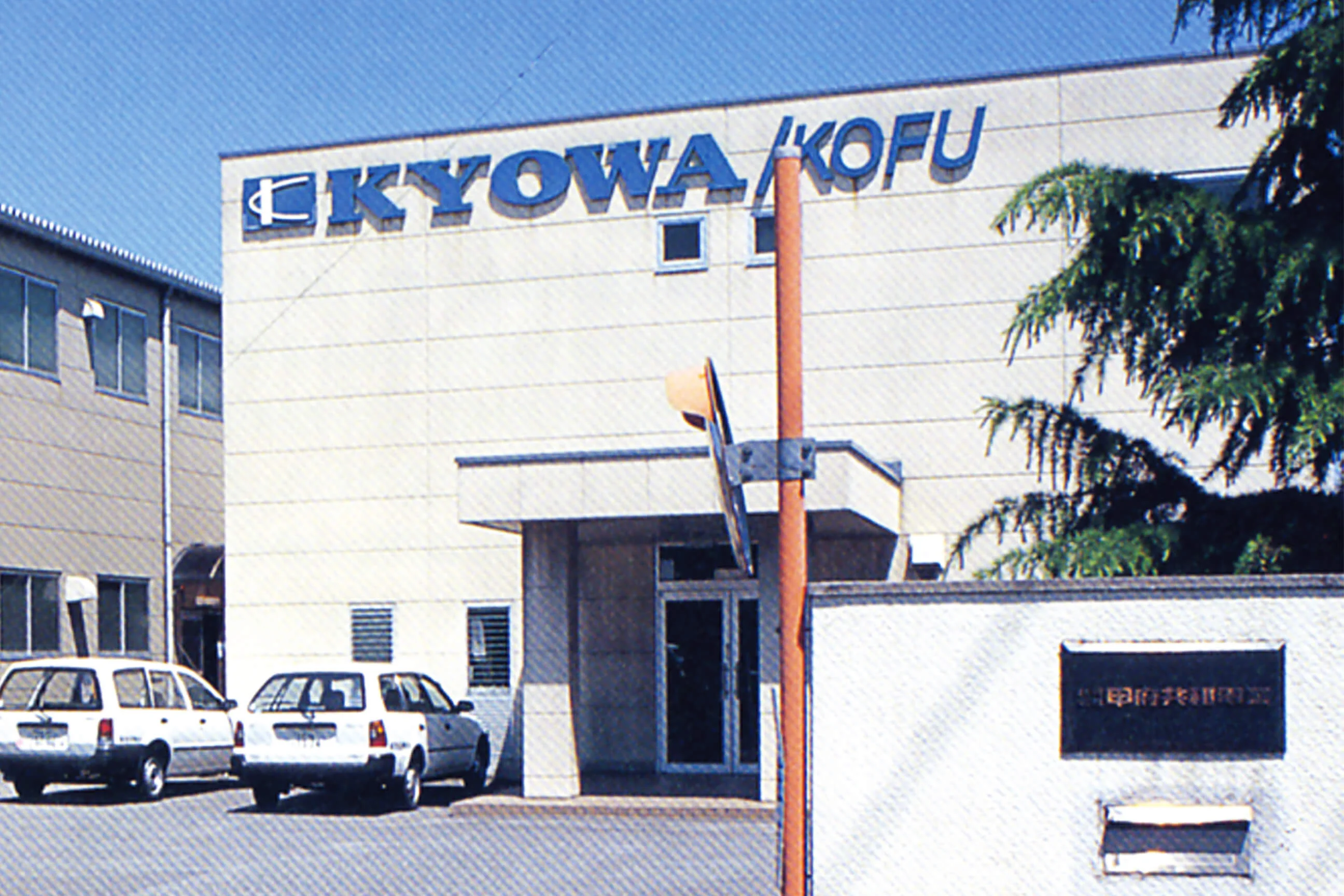 1988
Automobile collision test equipment
This year, a barrier test device (low-velocity collision test device) that was required for research on reducing damage in automobile collisions and improving repairability was completed. It used Kyowa's analysis device which includes software.
Release of the foil strain gage and the KFG-type strain gage
By changing the base material of the KFC-type strain gage, we have created an extremely flexible and easy-to-use gage. Since it was released on the 50th anniversary of the first release of strain gages, the G from "Golden Jubilee" was added to the name, replacing the "C", thus making it the "KFG-type strain gage".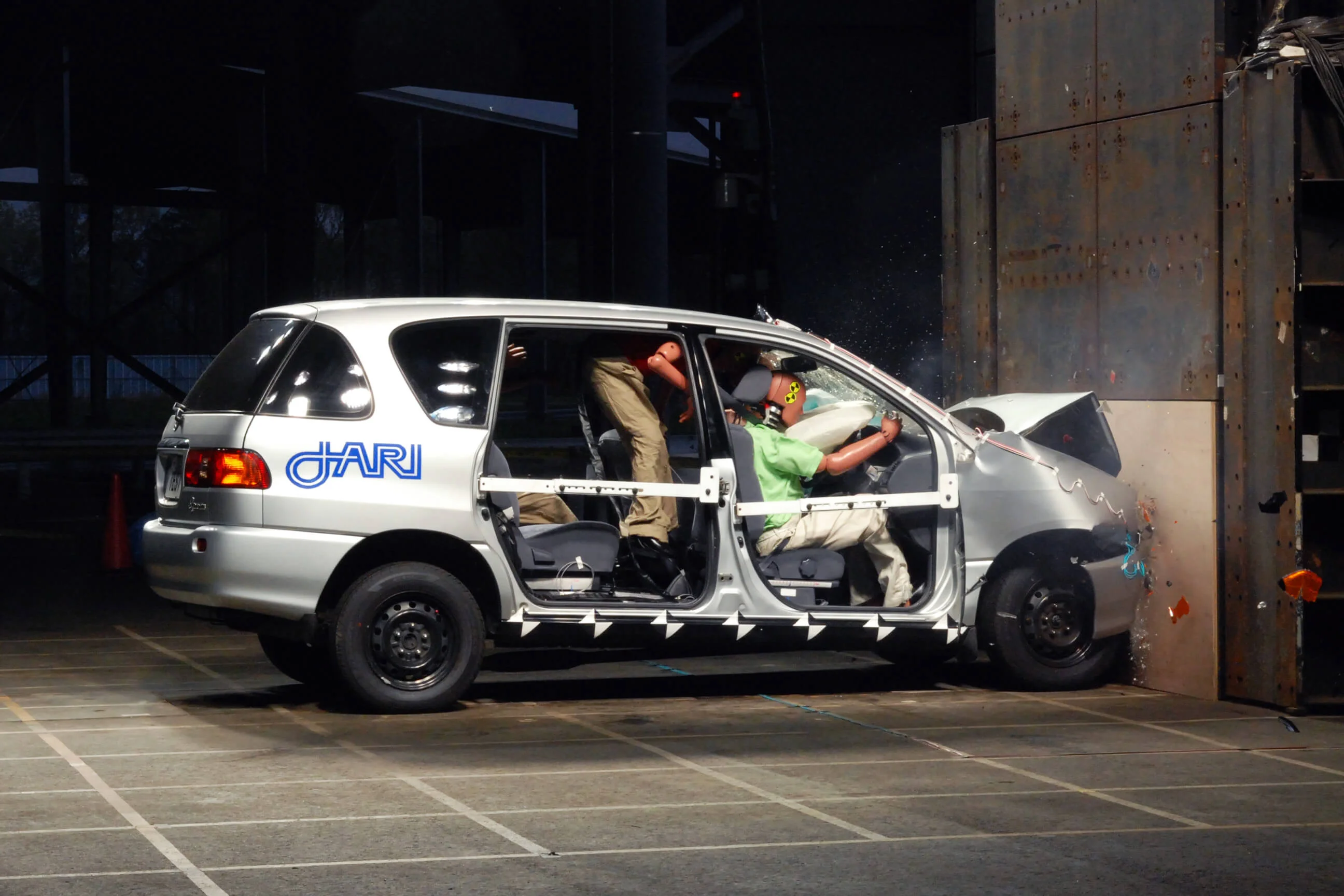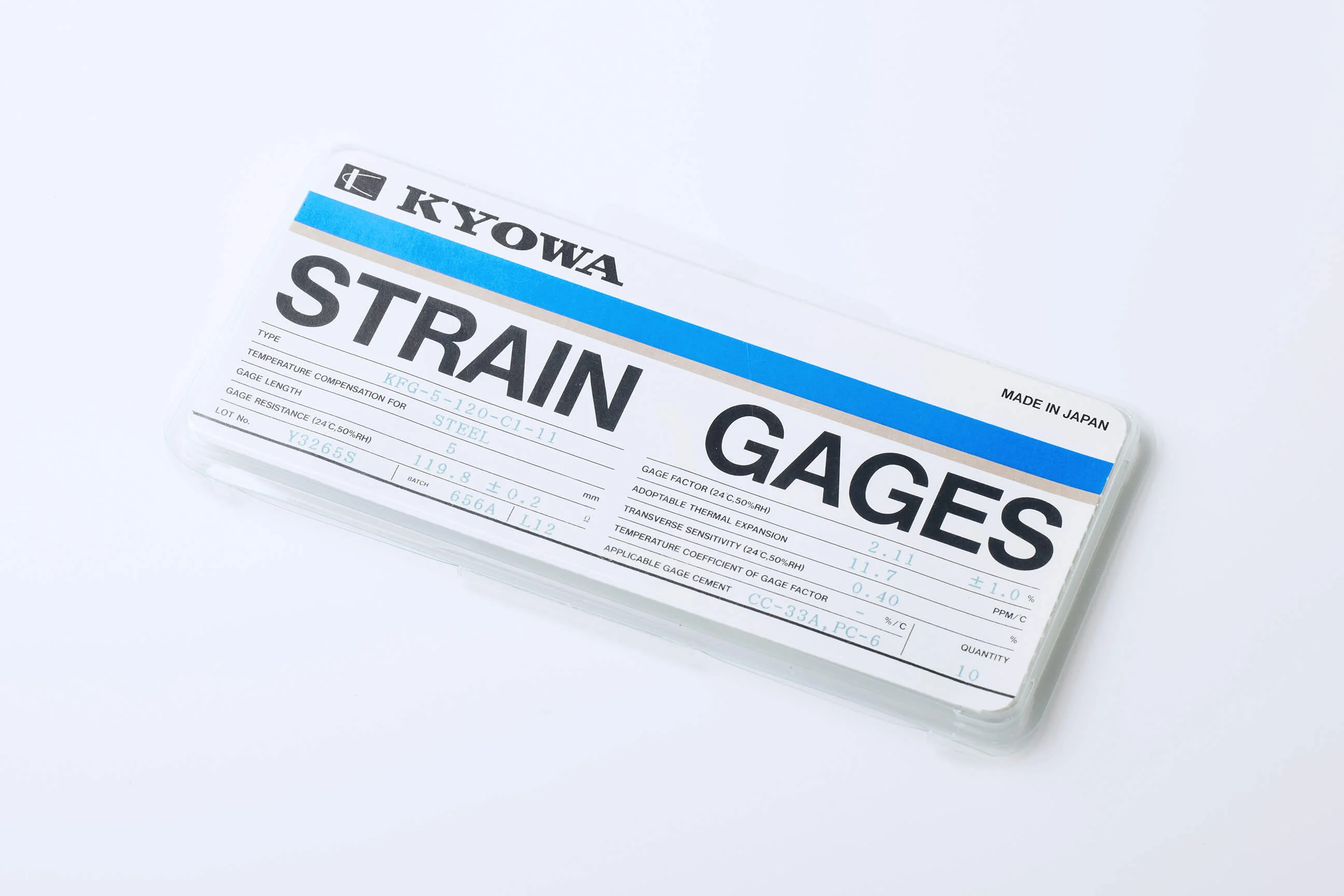 1990-2009
Development of a large market with new technologies for mobile communications such as mobile phones, PHS, and car navigation, even after the collapse of the economic bubble
Kyowa Electronic Instruments promotes product development in areas such as electronic technology, biotechnology, and advanced materials. In response to the demand for enhanced collision safety for automobiles, we have strengthened our in-vehicle collision test system. Products utilizing PC functions were also released.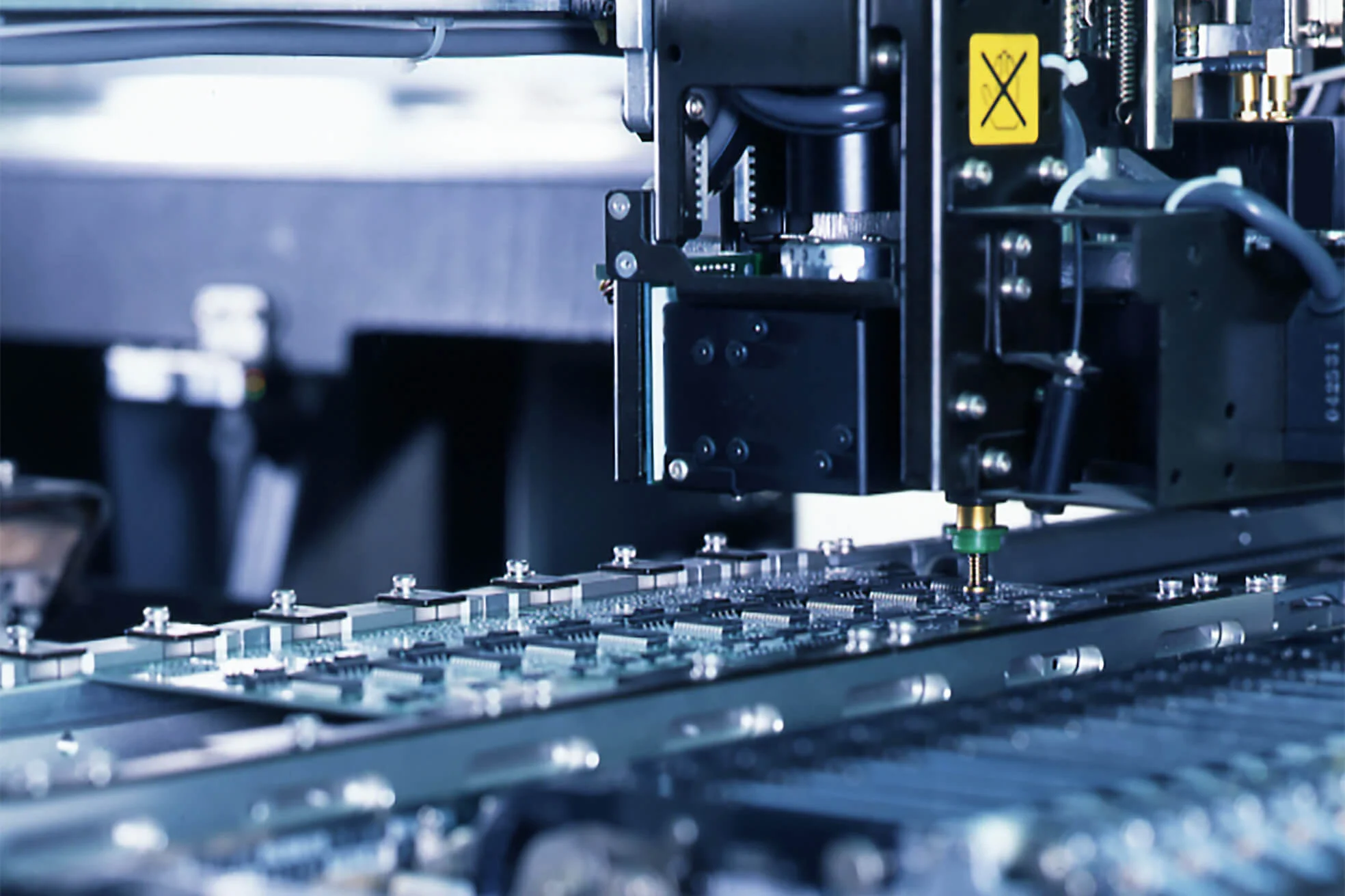 1994
Development of pressure transducers for use in space
After six years of development, we produced a pressure transducer for the H-II rocket.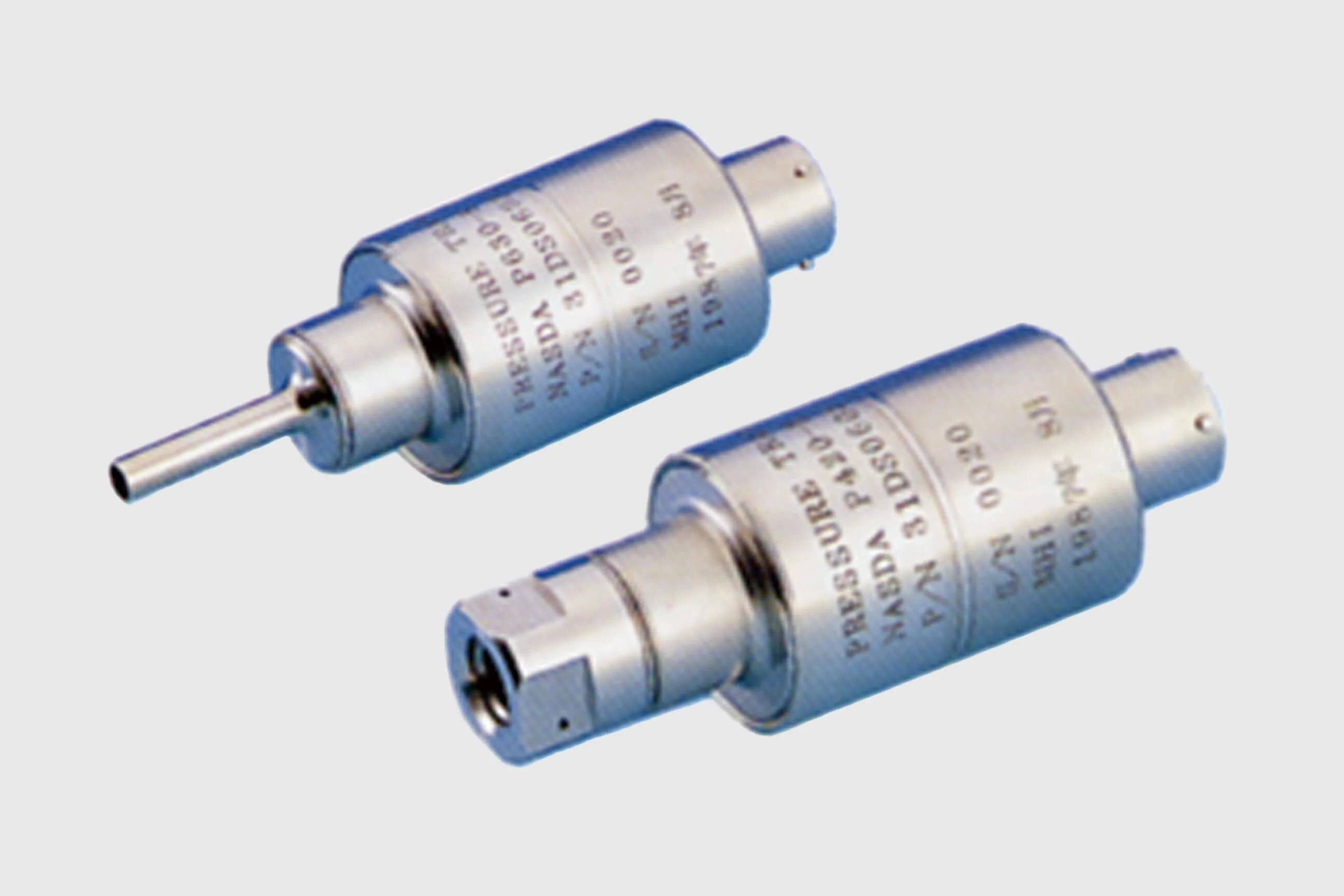 1998
Equipping various measuring instruments for manned linear motor car driving tests in Yamanashi
In 1998, we found success in a 550-km manned driving test using a linear motor car. For our cooperation in the measurement, we received a letter of appreciation from the Railway Technical Research Institute.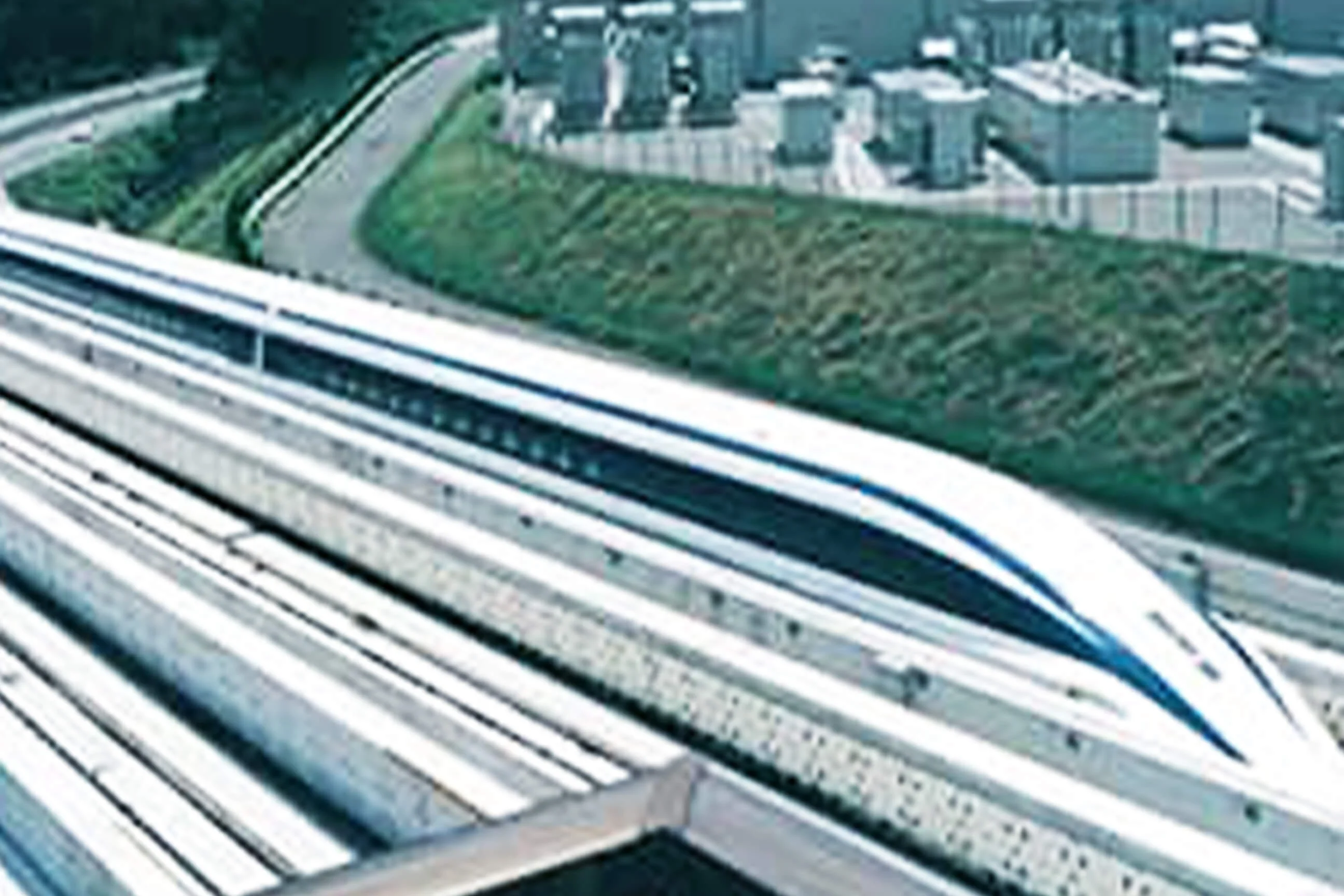 2000
Completion of the new Yamagata Kyowa Dengyo factory
It was established for the purpose of increasing the automation rate of sensor production and reducing costs.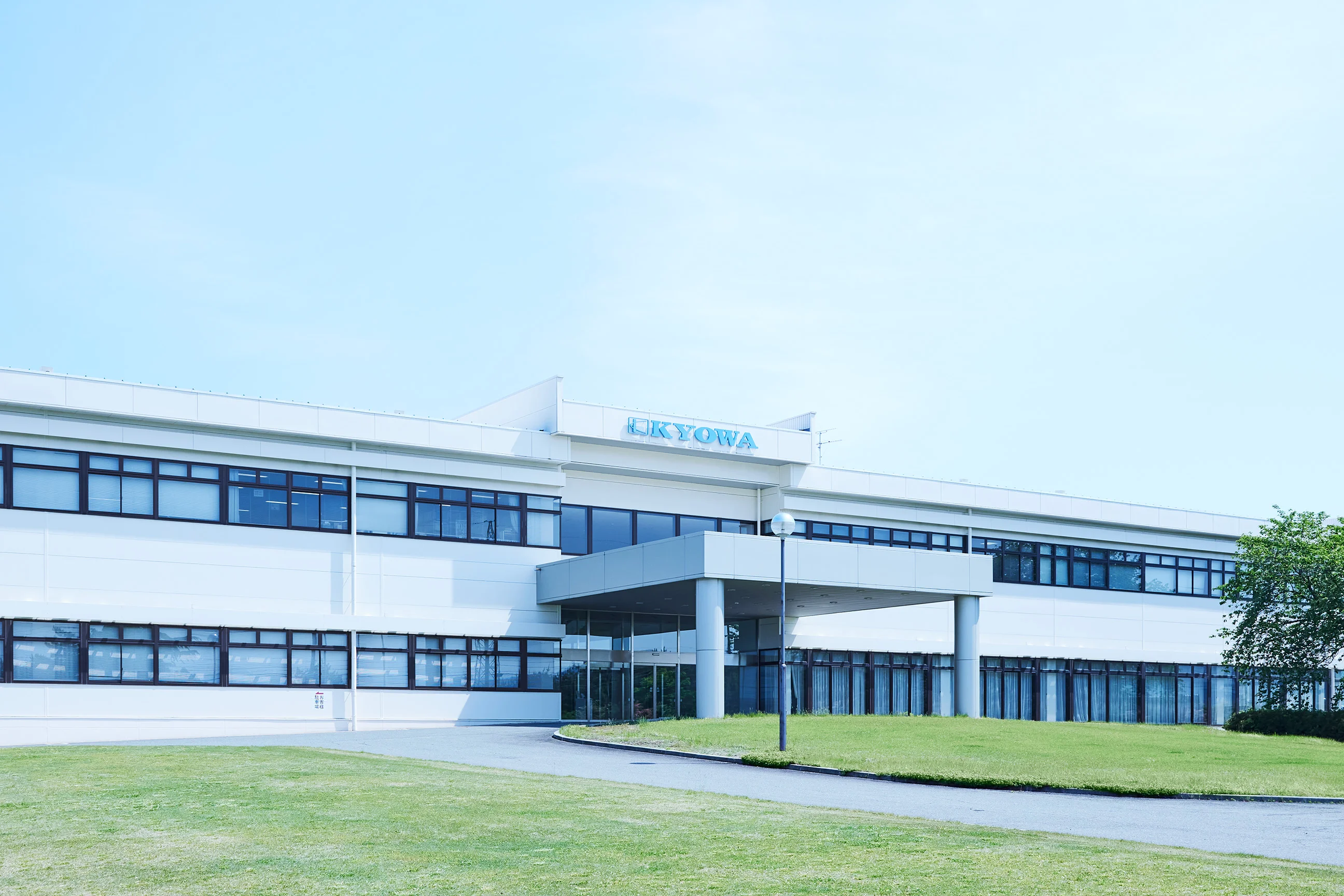 2001
Accredited as a certifying body in the JCSS calibration category of "Force Measurement"
Our Standard Device Office in Production HQ was accredited by the National Institute of Technology and Evaluation as a certifying body (Accreditation No. 0096) in the "Force Measurement" category.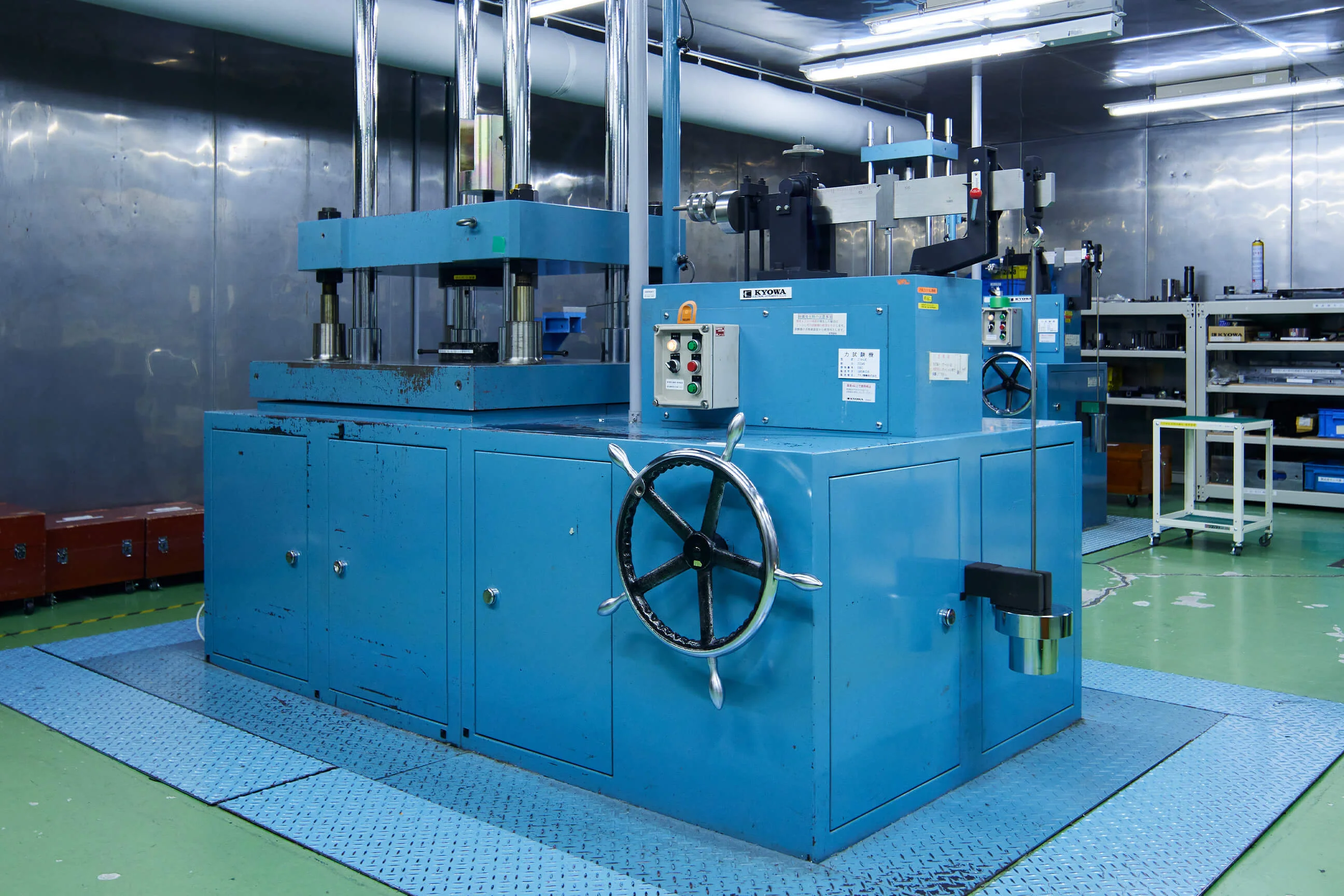 2003
Hayabusa launch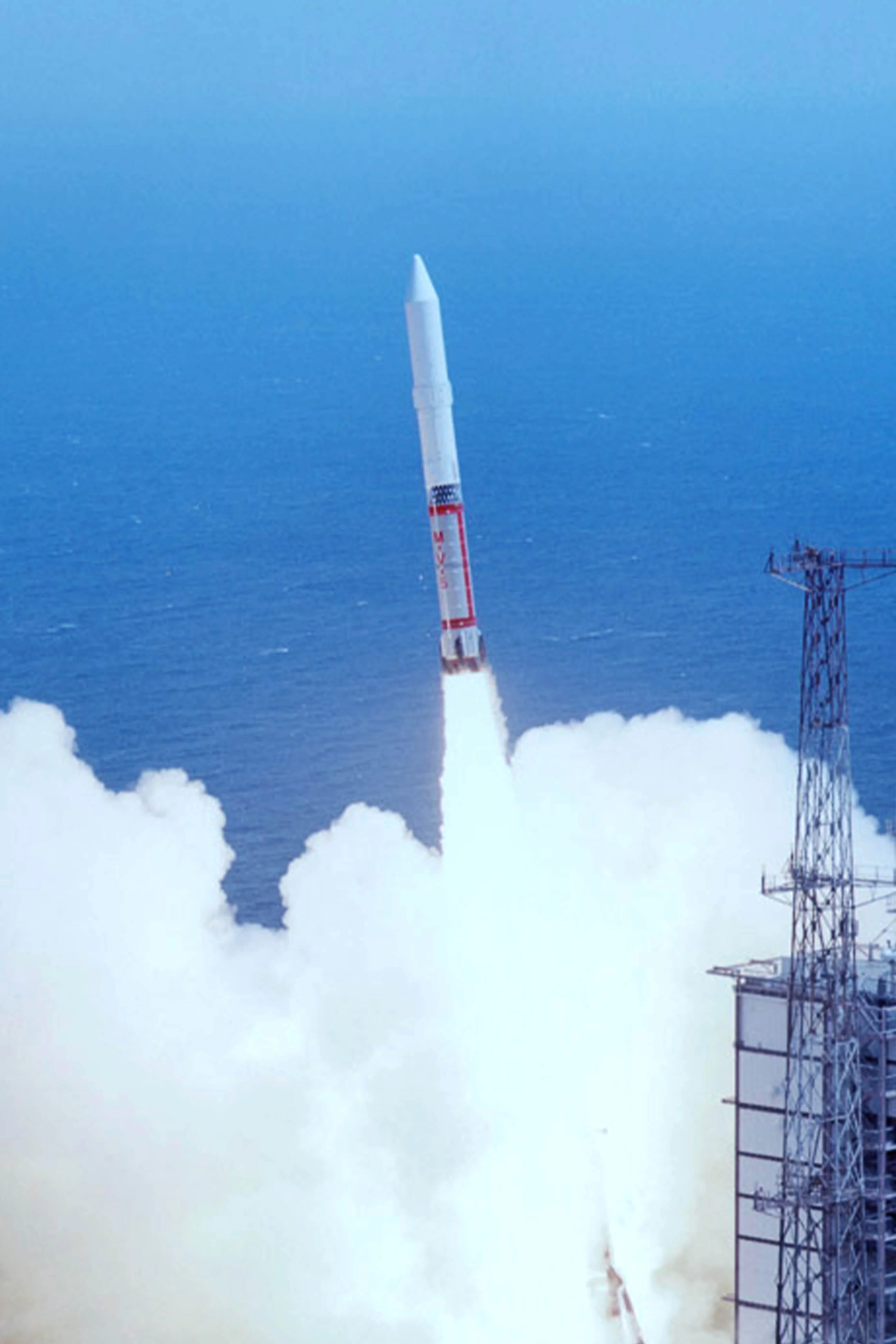 (C)JAXA
2009
New company building completed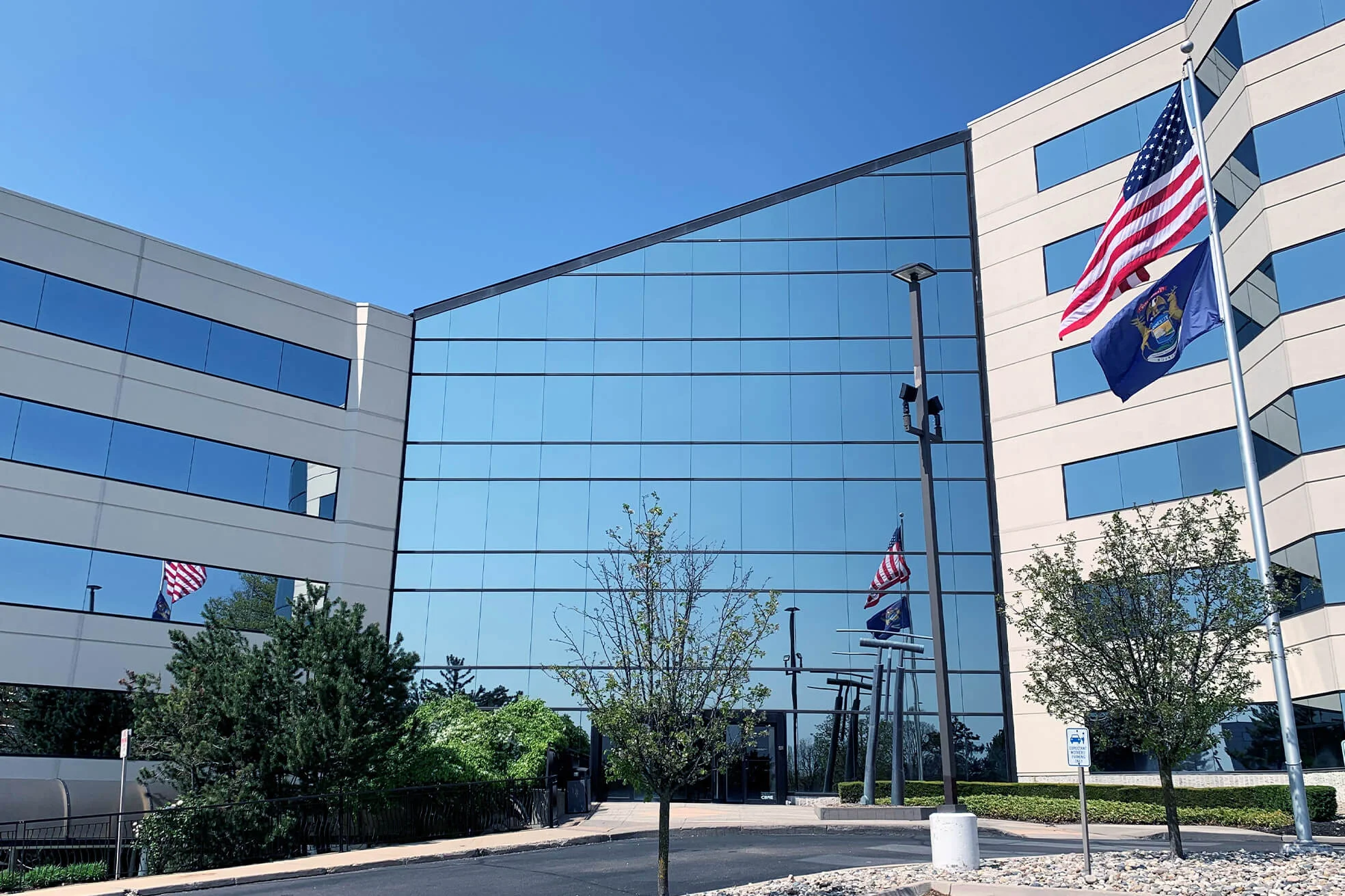 2010-2022
Aiming to expand, enhance, and strengthen global business, and strengthen overseas bases
We launched a new production line along with the redesign of strain gages, and proceeded with the introduction of "minimal fab" approach for new development that is suitable for high-mix low-volume production.
2010
Asteroid probe "Hayabusa" returns to Earth
In June 2010, the asteroid probe "Hayabusa" achieved the world's first feat of bringing back asteroid material to Earth. In December of the same year, we were commended by the Ministry of Education, Culture, Sports, Science and Technology as a member of the project support team in recognition of our contribution to the development of Hayabusa.
Haneda D runway measurement project
Nearly 800 measurements were taken in construction management during construction at the reclaimed section of Haneda Airport D runway and the connection section of the pier, and dynamic observation after the start of shared use.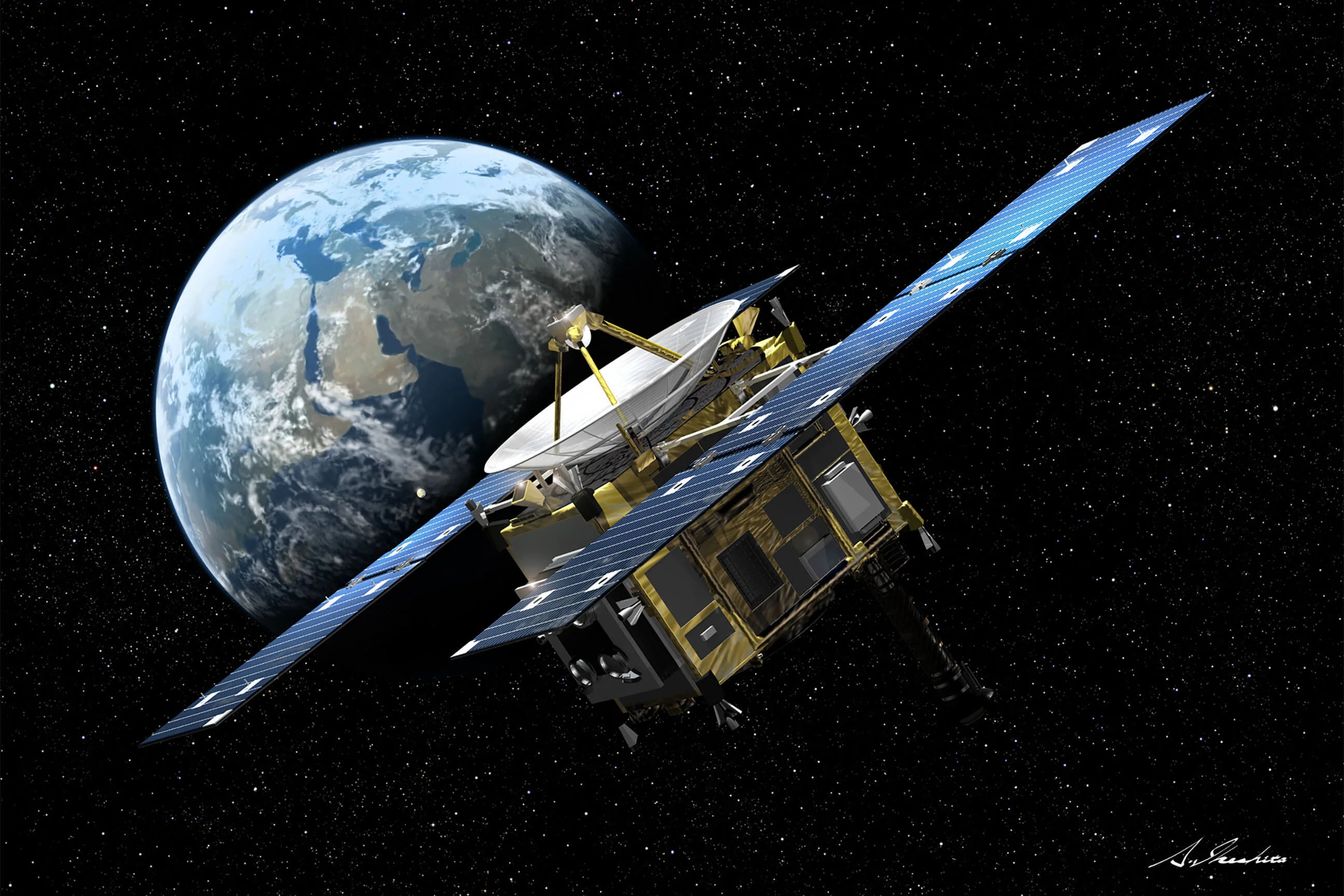 イラスト 池下章裕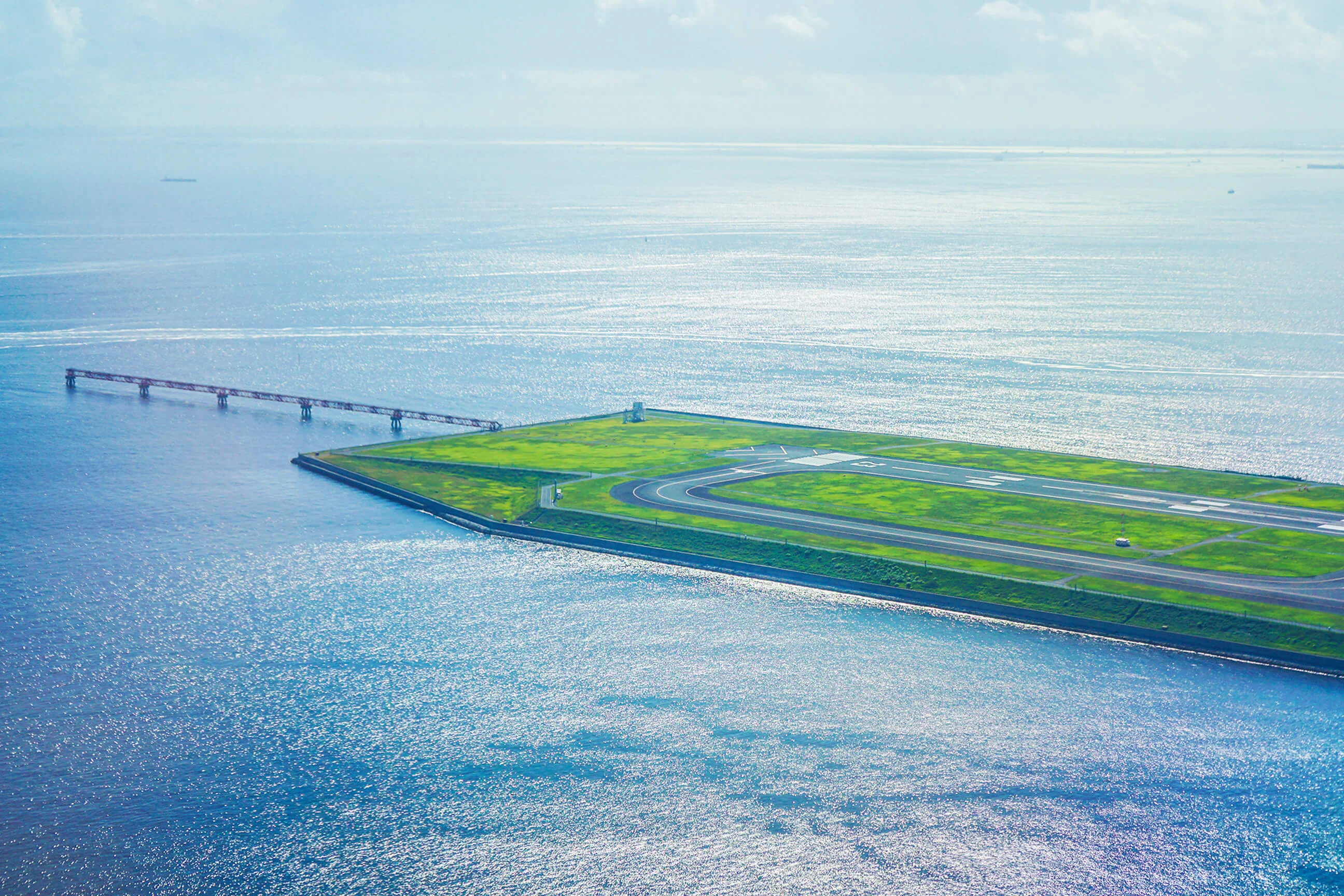 2016
Foil strain gage KFGS series released
The KFGS series foil strain gage aims to further improve long-term repeat accuracy by improving the KFG series general-purpose foil strain gage. The world's highest standard strain gage was born.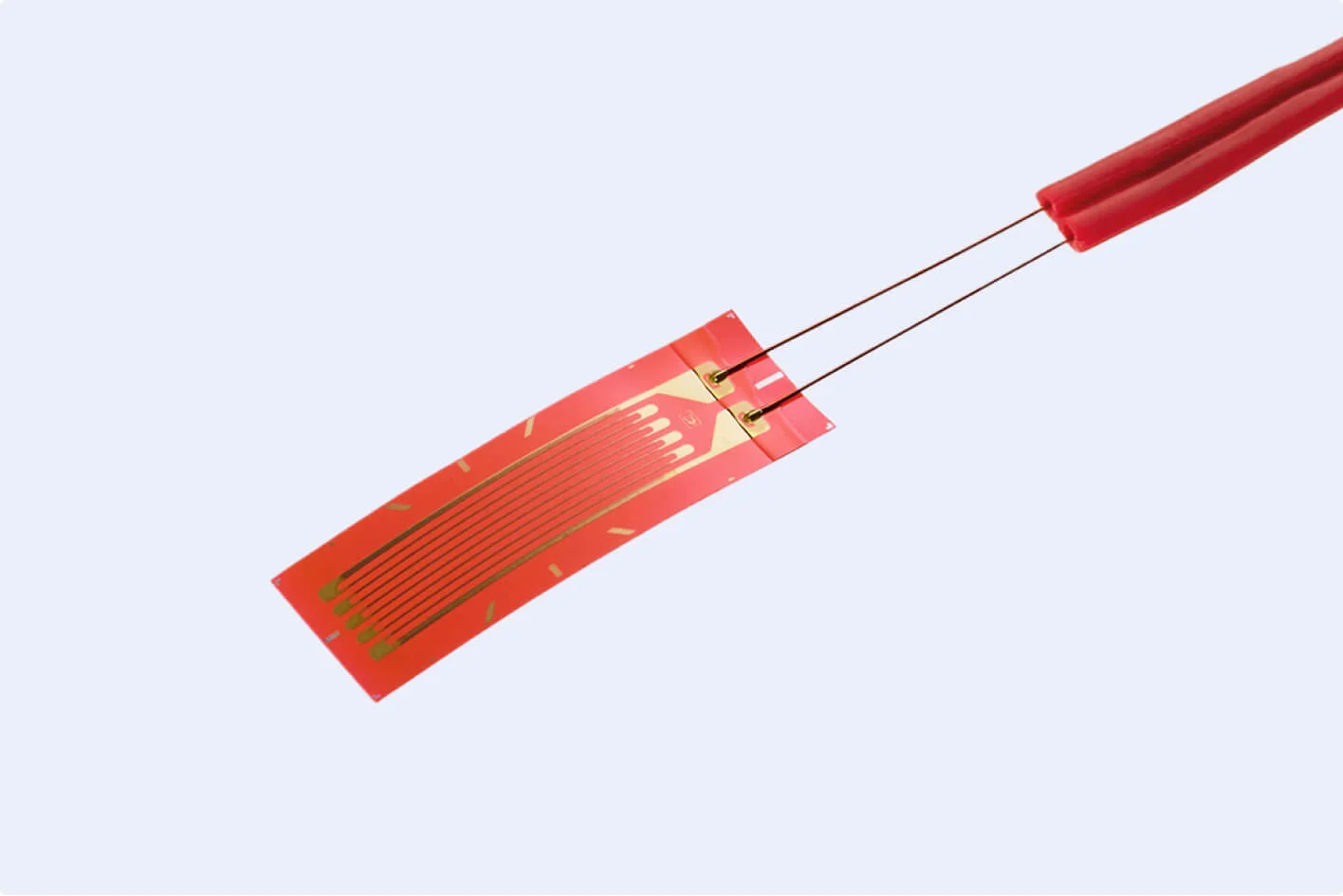 2020
Certified as a certifying body in the ASNITE acceleration category
Our Standard Device Office in Production HQ was accredited by the National Institute of Technology and Evaluation as the only company in Japan to calibrate acceleration using centrifugal acceleration.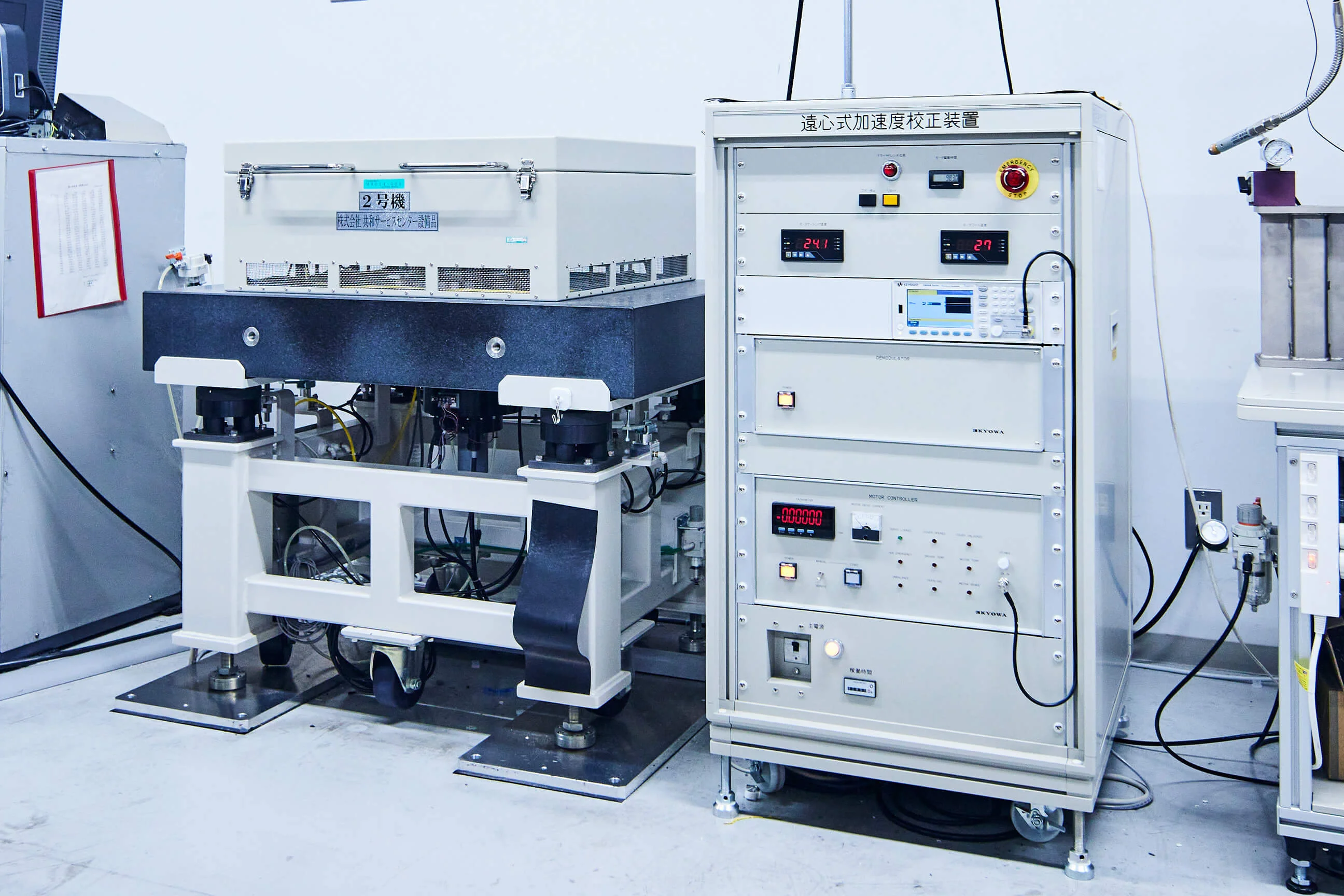 2023
Deflection measurement of Shibuya Station, Miyamasu Overpass during Yamanote Line switching project
In January 2023, we measured the deflection of the Miyamasu overpass with a sampling moire camera in a construction project to switch the outer loop track of the Yamanote Line at Shibuya Station (to place the same platform for the inner and outer loop).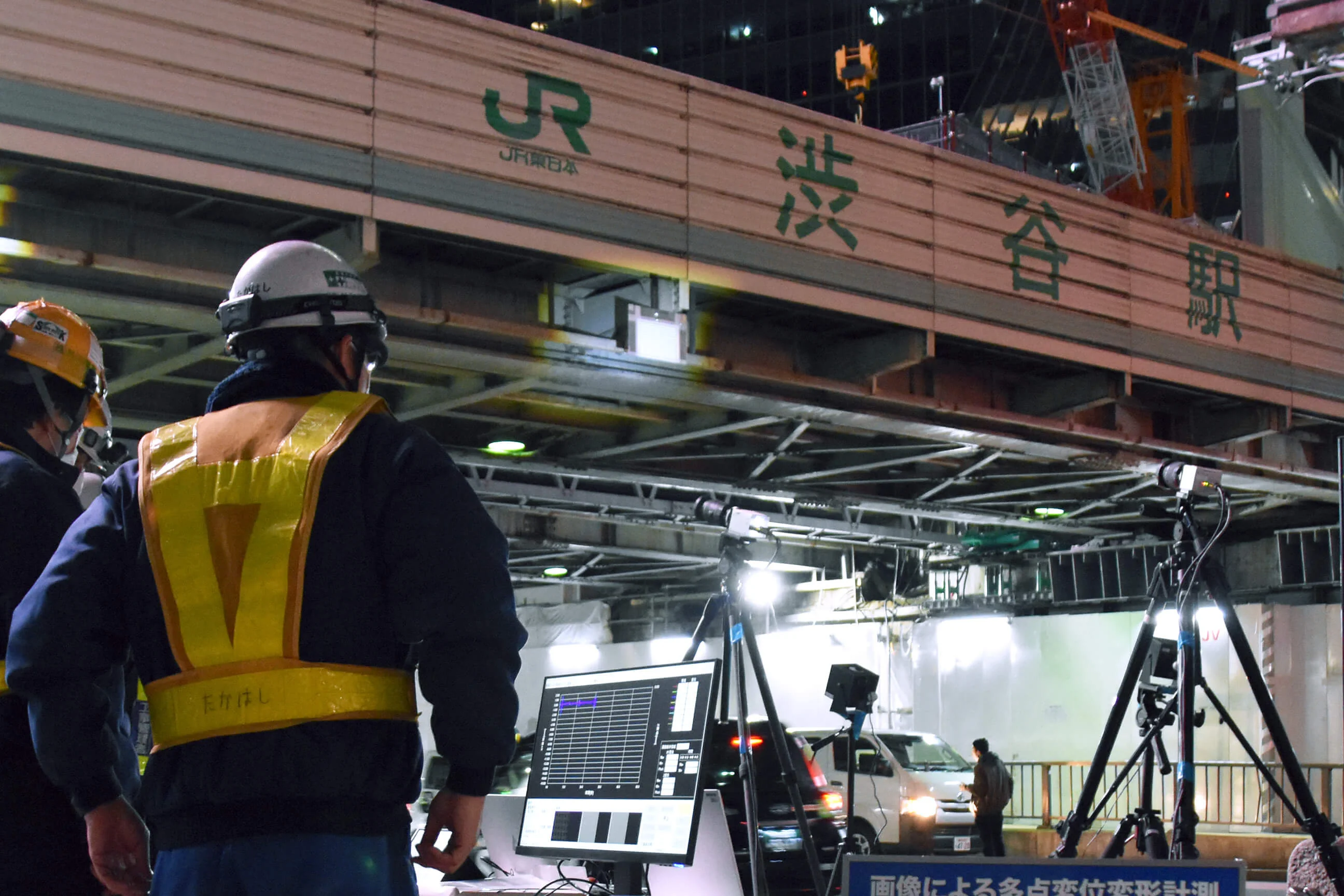 Towards the future that will become our next history
Looking to the future together with our partners to create products and value.
In this section, we explain how we position ourselves as a manufacturer and what is our focus in collaborating with our partners and offering them our solutions.
The Future of Kyowa Electronic Instruments